จำนวนครั้งที่เปิดดูสินค้า : 12621 | ความคิดเห็น: 0
Club Med Finolhu Villas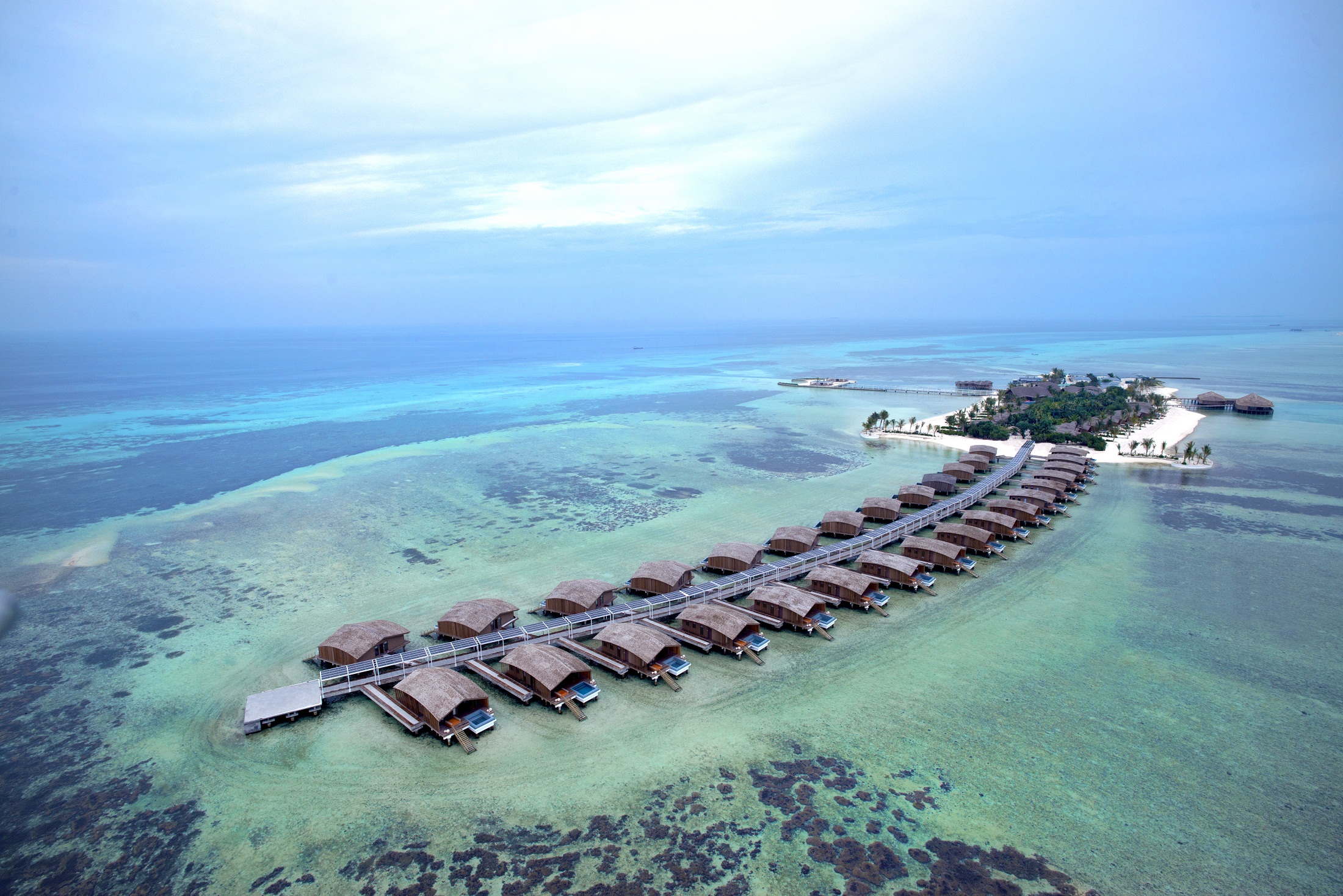 Club Med Finolhu, Maldives เป็นรีสอร์ท 5 ดาว ที่มีการสอบถามแพคเกจกันเข้ามามากมายอีกหนึ่งรีสอร์ทเลยค่ะ เนื่องจาก Club Med Finolhu โดดเด่นในเรื่องของการออกแบบและการตกแต่งห้องพักในสไตล์โมเดิร์น ทุกห้องมี Pool ส่วนตัว แพคเกจเป็นแบบ All Inclusive ที่นี่เป็นอีกรีสอร์ทที่เหมาะสำหรับคู่รักในการมาท่องเที่ยวมัลดีฟส์ค่ะ

Club med Finolhu ตั้งอยู่บริเวณมาเล่ อะทอลล์ การเดินทางไปยังรีสอร์ทใช้เวลาประมาณ 40-45 นาที โดยสปี๊ดโบ๊ท ท่านใดที่กำลังมองหารีสอร์ทหรูที่ค่อนข้างมีความเป็นส่วนตัว Club Med Finolhu ก็เป็นอีกตัวเลือกที่น่าสนใจค่ะ
The Prices are quoted in Thai Currency (Baht)
Prices in these packages are for per person/ Twin Sharing room
Club Med Finolhu Villas, Maldives with Air Asia
Booking by 31 Aug 2019
3DAYS 2NIGHTS AIR PACKAGE WITH AIR ASIA (FD)
Departure: FD175 DONMUEANG-MALE 09:30-11:40 Return: FD176 MALE-DONMUEANG 12:25-19:10


*** กรูณาเช็คราคา อีกครั้ง เนืองจากราคานี้เป็นราคาตั๋วเริ่มต้น และ ราคาอาจจะมีการปรับเปลี่ยนขึ้นอยู่กับที่นั่งบนเครื่องบิน***
Date of Travel

Room category

Package/Adult

Package/Teenager

12-17 yrs

Package/Child

8-11 yrs
6-8 Sep 19

Sunrise Beach Villa

45,900

40,900

-

Sunset Beach Villa

47,500

42,100

36,600

Sunrise Overwater Villa

53,900

-

-

Sunset Overwater Villa

58,700

-

-
13-15 Sep 19

Sunrise Beach Villa

60,800

55,800

-

Sunset Beach Villa

62,400

57,000

51,500

Sunrise Overwater Villa

68,800

-

-

Sunset Overwater Villa

73,600

-

-
20-22 Sep 19

Sunrise Beach Villa

46,700

41,700

-

Sunset Beach Villa

48,300

42,900

37,400

Sunrise Overwater Villa

54,700

-

-

Sunset Overwater Villa

59,500

-

-
27-29 Sep 19

Sunrise Beach Villa

44,800

40,200

-

Sunset Beach Villa

46,300

41,300

36,200

Sunrise Overwater Villa

52,200

-

-

Sunset Overwater Villa

56,600

-

-
4-6 Oct 19

Sunrise Beach Villa

45,500

40,900

-

Sunset Beach Villa

47,000

42,000

36,900

Sunrise Overwater Villa

52,900

-

-

Sunset Overwater Villa

57,300

-

-
11-13 Oct 19

Sunrise Beach Villa

49,000

44,000

-

Sunset Beach Villa

50,600

45,200

39,700

Sunrise Overwater Villa

57,000

-

-

Sunset Overwater Villa

61,800

-

-
18-20 Oct 19

Sunrise Beach Villa

50,100

45,100

-

Sunset Beach Villa

51,700

46,300

40,800

Sunrise Overwater Villa

58,100

-

-

Sunset Overwater Villa

62,900

-

-
25-27 Oct 19

Sunrise Beach Villa

48,600

43,600

-

Sunset Beach Villa

50,200

44,800

39,300

Sunrise Overwater Villa

56,600

-

-

Sunset Overwater Villa

61,400

-

-
1-3 Nov 19

Sunrise Beach Villa

42,700

37,900

-

Sunset Beach Villa

44,700

39,500

34,300

Sunrise Overwater Villa

54,200

-

-

Sunset Overwater Villa

58,700

-

-
8-10 Nov 19

Sunrise Beach Villa

42,500

37,700

-

Sunset Beach Villa

44,000

38,900

33,900

Sunrise Overwater Villa

53,700

-

-

Sunset Overwater Villa

57,900

-

-
15-17 Nov 19

Sunrise Beach Villa

43,700

38,900

-

Sunset Beach Villa

45,200

40,100

35,000

Sunrise Overwater Villa

54,900

-

-

Sunset Overwater Villa

59,100

-

-
22-24 Nov 19

Sunrise Beach Villa

46,100

41,300

-

Sunset Beach Villa

47,600

42,500

37,500

Sunrise Overwater Villa

57,300

-

-

Sunset Overwater Villa

61,500

-

-
29 Nov-1 Dec 19

Sunrise Beach Villa

46,800

42,000

-

Sunset Beach Villa

48,300

43,200

38,100

Sunrise Overwater Villa

58,000

-

-

Sunset Overwater Villa

62,200

-

-
6-8 Dec 19

Sunrise Beach Villa

49,800

44,700

-

Sunset Beach Villa

51,400

46,000

40,500

Sunrise Overwater Villa

61,900

-

-

Sunset Overwater Villa

66,500

-

-
13-15 Dec 19

Sunrise Beach Villa

51,990

46,400

-

Sunset Beach Villa

53,600

47,800

41,900

Sunrise Overwater Villa

64,900

-

-

Sunset Overwater Villa

69,900

-

-
Cost inclusion :
2 nights accommodation with Air Asia
Roundtrip airport transfer by speedboat
All meals are international fusion food
Unlimited flow of alcoholic and non-alcoholic drinks, wines, cocktails, fresh juices served in all day bar with finger food & light meals (excludes premium spirits, bottled wines & champagnes)
Host of land & water sport facilities (specific to resorts) with tuition and equipment
Daily evening entertainment : cinema under the stars, live music, dance & beach events
Personalized service – Villa Host (Butler)
Booking Terms & Conditions :
Offer and package prices are valid for a minimum of 2 adults traveling together and applicable for a minimum 2 nights stay.
Welcome guests from 18 years stay in Overwater villas & 8-17 years stay in Beach villas
Villa with panoramic view is 10%surcharge
All payments made are non-refundable and non-transferable
This package is not valid for Group travel
Confirmation is subject to availability. Offer cannot be used in conjunction with any other promotions.

For reservation, please contact 081 701-0091 or 02 538-1374