จำนวนครั้งที่เปิดดูสินค้า : 47 | ความคิดเห็น: 0
Intercontinental Maldives Maamunagau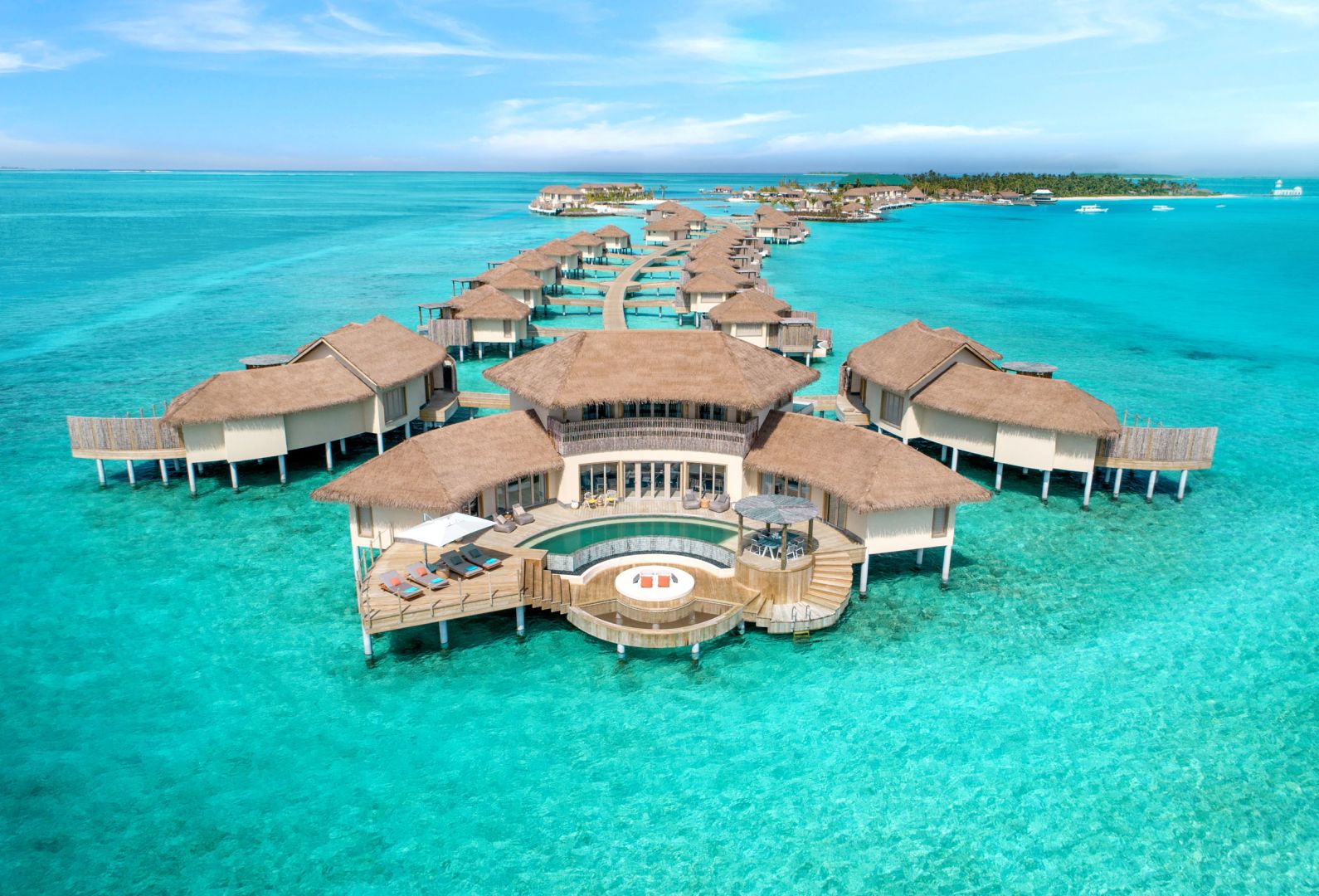 The Prices are quoted in Thai Currency (Baht)
Prices in these packages are for per person/ Twin Sharing room
Special Promotion
Traveling Period: 10 – 31 Jan 2020 เข้าพักขั้นต่ำ 3 คืน Free Upgrade to Half Board
Departure Dates

Room type

(Twin sharing)

Special Price

3 Nights

10 – 31 Jan 2020

Sunrise Overwater Pool Villa

61,000

Sunset Overwater Pool Villa

62,000

Sunrise One Bedroom Lagoon Pool Villa

65,000

Sunset One Bedroom Lagoon Pool Villa

66,000

Beach Pool Villa

62,000

Extra Adult 12 years above

48,500

Extra Child 02 – 11.99 years

Stay & Eat FREE, Extra Seaplane 13,000

Extra Infant 00 – 01.99 years

Stay & Eat FREE
Traveling Period: 1 Feb – 19 Apr 2020
Departure Dates

Room type

(Twin sharing)

2 Nights

3 Nights

4 Nights

Ebo30

Ebo15

Ebo30

Ebo15

Ebo30

Ebo15

1 Feb – 19 Apr 2020

Sunrise Overwater Pool Villa

47,500

50,900

61,300

66,500

75,200

82,200

Sunset Overwater Pool Villa

49,600

53,400

64,600

70,300

79,500

87,100

Two Bedroom Overwater Pool Villa (4 Paxs)

63,000

68,600

84,600

93,100

106,200

117,600

Three Bedroom Overwater Residence (6 Paxs)

149,900

167,800

214,800

242,000

279,900

316,000

Sunrise One Bedroom Lagoon Pool Villa

49,900

53,600

64,900

70,600

80,000

87,600

Sunset One Bedroom Lagoon Pool Villa

52,000

56,100

68,200

74,300

84,300

92,600

Two Bedroom Family Lagoon Pool Villa (4 Paxs)

46,200

49,500

59,500

64,500

72,800

79,400

Three Bedroom Lagoon Residence (6 Paxs)

140,000

156,500

199,900

224,900

260,000

293,300

Beach Pool Villa

51,100

55,100

66,900

72,900

82,600

90,600

Family Beach Pool Villa

42,500

45,300

54,000

58,200

65,500

71,000

One Bedroom Beach Pool Villa

66,300

72,500

89,600

98,900

113,000

125,300

Two Bedroom Family Beach Pool Villa

55,600

60,200

73,500

80,500

91,500

100,800

Two Bedroom Beachfront Pool Residence

109,900

122,200

154,900

173,500

200,000

224,800

Three Bedroom Royal Beachfront Residence

196,900

221,400

258,200

323,000

373,700

423,200

Extra Adult 12 years above

39,000

48,500

58,000

Extra Child 02 – 11.99 years

Stay & Eat FREE, Extra Seaplane 13,000

Extra Infant 00 – 01.99 years

Stay & Eat FREE
Traveling Period: 20 Apr – 20 May 2020
Departure Dates

Room type

(Twin sharing)

2 Nights

3 Nights

4 Nights

Ebo30

Ebo15

Ebo30

Ebo15

Ebo30

Ebo15

20 Apr – 20 May 2020

Sunrise Overwater Pool Villa

41,400

44,000

52,200

56,100

63,100

68,300

Sunset Overwater Pool Villa

43,500

46,400

55,500

59,800

67,400

73,200

Two Bedroom Overwater Pool Villa (4 Paxs)

66,400

72,600

89,800

99,100

113,200

125,600

Three Bedroom Overwater Residence (6 Paxs)

146,700

164,400

210,200

236,700

273,800

309,100

Sunrise One Bedroom Lagoon Pool Villa

43,700

46,700

55,800

60,200

67,800

73,700

Sunset One Bedroom Lagoon Pool Villa

45,900

49,200

59,000

63,900

72,200

78,700

Two Bedroom Family Lagoon Pool Villa (4 Paxs)

43,200

46,100

55,000

59,300

66,800

72,500

Three Bedroom Lagoon Residence (6 Paxs)

137,800

154,200

196,800

221,400

255,900

288,700

Beach Pool Villa

45,000

48,200

57,700

62,400

70,400

76,700

Family Beach Pool Villa

39,500

41,900

49,500

53,000

59,400

64,100

One Bedroom Beach Pool Villa

60,200

65,500

80,500

88,500

100,800

111,400

Two Bedroom Family Beach Pool Villa

52,500

56,700

69,000

75,300

85,400

93,800

Two Bedroom Beachfront Pool Residence

106,800

118,700

150,300

168,300

193,900

217,800

Three Bedroom Royal Beachfront Residence

194,600

219,100

282,000

318,900

369,600

418,600

Extra Adult 12 years above

39,000

48,500

58,000

Extra Child 02 – 11.99 years

Stay & Eat FREE, Extra Seaplane 13,000

Extra Infant 00 – 01.99 years

Stay & Eat FREE
Traveling Period: 21 - 30 May 2020
Departure Dates

Room type

(Twin sharing)

2 Nights

3 Nights

4 Nights

Ebo30

Ebo15

Ebo30

Ebo15

Ebo30

Ebo15

21 – 30 May 2020

Sunrise Overwater Pool Villa

49,000

52,600

63,600

69,100

78,300

85,600

Sunset Overwater Pool Villa

51,100

55,100

669,000

72,900

82,600

90,600

Two Bedroom Overwater Pool Villa (4 Paxs)

63,700

69,500

85,700

94,900

107,800

119,400

Three Bedroom Overwater Residence (6 Paxs)

150,500

168,700

215,900

243,200

281,400

317,800

Sunrise One Bedroom Lagoon Pool Villa

51,300

55,400

67,200

73,200

83,000

91,100

Sunset One Bedroom Lagoon Pool Villa

53,500

57,800

70,400

76,900

87,400

96,000

Two Bedroom Family Lagoon Pool Villa (4 Paxs)

47,000

50,400

60,700

65,800

74,300

81,200

Three Bedroom Lagoon Residence (6 Paxs)

140,300

157,000

200,600

225,700

261,000

294,500

Beach Pool Villa

52,600

56,900

69,100

75,500

85,600

94,100

Family Beach Pool Villa

43,300

46,200

55,100

59,500

67,000

72,700

One Bedroom Beach Pool Villa

67,800

74,200

91,900

101,500

116,000

128,800

Two Bedroom Family Beach Pool Villa

56,300

61,100

74,700

81,800

93,000

102,500

Two Bedroom Beachfront Pool Residence

110,600

123,100

156,000

174,800

201,500

226,500

Three Bedroom Royal Beachfront Residence

197,200

222,000

285,900

323,200

347,700

424,500

Extra Adult 12 years above

39,000

48,500

58,000

Extra Child 02 – 11.99 years

Stay & Eat FREE, Extra Seaplane 13,000

Extra Infant 00 – 01.99 years

Stay & Eat FREE
Traveling Period: 31 May – 30 Sep 2020
Departure Dates

Room type

(Twin sharing)

2 Nights

3 Nights

4 Nights

Ebo30

Ebo15

Ebo30

Ebo15

Ebo30

Ebo15

31 May – 30 Sep 2020

Sunrise Overwater Pool Villa

41,400

44,000

52,200

56,100

63,100

68,300

Sunset Overwater Pool Villa

43,500

46,400

55,500

59,800

67,400

73,200

Two Bedroom Overwater Pool Villa (4 Paxs)

66,400

72,600

89,800

99,100

113,200

125,600

Three Bedroom Overwater Residence (6 Paxs)

146,700

164,400

210,200

236,700

273,800

309,100

Sunrise One Bedroom Lagoon Pool Villa

43,700

46,700

55,800

60,200

67,800

73,700

Sunset One Bedroom Lagoon Pool Villa

45,900

49,200

59,000

63,900

72,200

78,700

Two Bedroom Family Lagoon Pool Villa (4 Paxs)

43,200

46,100

55,000

59,300

66,800

72,500

Three Bedroom Lagoon Residence (6 Paxs)

137,800

154,200

196,800

221,400

255,900

288,700

Beach Pool Villa

45,000

48,200

57,700

62,400

70,400

76,700

Family Beach Pool Villa

39,500

41,900

49,500

53,000

59,400

64,100

One Bedroom Beach Pool Villa

60,200

65,500

80,500

88,500

100,800

111,400

Two Bedroom Family Beach Pool Villa

52,500

56,700

69,000

75,300

85,400

93,800

Two Bedroom Beachfront Pool Residence

106,800

118,700

150,300

168,300

193,900

217,800

Three Bedroom Royal Beachfront Residence

194,600

219,100

282,000

318,900

396,600

418,600

Extra Adult 12 years above

39,000

48,500

58,000

Extra Child 02 – 11.99 years

Stay & Eat FREE, Extra Seaplane 13,000

Extra Infant 00 – 01.99 years

Stay & Eat FREE
Traveling Period: 1 Oct – 20 Dec 2020
Departure Dates

Room type

(Twin sharing)

2 Nights

3 Nights

4 Nights

Ebo30

Ebo15

Ebo30

Ebo15

Ebo30

Ebo15

1 Oct – 20 Dec 2020

Sunrise Overwater Pool Villa

47,500

50,900

61,300

66,500

75,200

82,200

Sunset Overwater Pool Villa

49,600

53,400

64,600

70,300

79,500

87,100

Two Bedroom Overwater Pool Villa (4 Paxs)

63,000

68,600

84,600

93,100

106,200

117,600

Three Bedroom Overwater Residence (6 Paxs)

149,900

167,800

214,800

242,000

279,900

316,000

Sunrise One Bedroom Lagoon Pool Villa

49,900

53,600

64,900

70,600

80,000

87,600

Sunset One Bedroom Lagoon Pool Villa

52,000

56,100

68,200

74,300

84,300

92,600

Two Bedroom Family Lagoon Pool Villa (4 Paxs)

46,200

49,500

59,500

64,500

72,800

79,400

Three Bedroom Lagoon Residence (6 Paxs)

140,000

156,500

199,900

224,900

260,000

293,300

Beach Pool Villa

51,100

55,100

66,900

72,900

82,600

90,600

Family Beach Pool Villa

42,500

45,300

54,000

58,200

65,500

71,000

One Bedroom Beach Pool Villa

66,300

72,500

89,600

98,900

113,000

125,300

Two Bedroom Family Beach Pool Villa

55,600

60,200

73,500

80,500

91,500

100,800

Two Bedroom Beachfront Pool Residence

109,900

122,200

154,900

173,500

200,000

224,800

Three Bedroom Royal Beachfront Residence

196,900

221,400

258,200

323,000

373,700

423,200

Extra Adult 12 years above

39,000

48,500

58,000

Extra Child 02 – 11.99 years

Stay & Eat FREE, Extra Seaplane 13,000

Extra Infant 00 – 01.99 years

Stay & Eat FREE
*Children below 12 years old cannot stay in Sunrise & Sunset Overwater Pool Villa & Two BR Overwater Pool Villa & Three BR Overwater Residence
เงื่อนไขการเข้าพัก / Conditions:
ช่วงปกติ Minimum stay 2 nights
Meal Plan Upgrade:
Half Board : Adult 3,500 THB per night per person / Child (2 – 11.99 years) : FREE
Full Board : Adult 4,800 THB per night per person / Child (2 – 11.99 years) : FREE
Half and Full Board package venue: Café Umi – excluding beverages
Receive 30% off (Food only) from our Signature Restaurants (Fish Market & Lighthouse) and Dining by Design: Private In-Villa Dining, Gourmet Picnic or Sunset Cruise. This offer will only be applicable when guests take up the Half or Full Board package. (30% discount will be applicable on dinner only when booked on Half Board and will be applicable on Lunch and Dinner)
Packages include:
ค่ารับส่งสนามบิน – รีสอร์ท – สนามบินด้วยเครื่องบินน้ำ / Round Trip transfer by Seaplane
ที่พักในรีสอร์ท / Accommodation at the resort
Inclusive the Club InterContinental Benefits as below
Complimentary daily Breakfast with a choice of two venues: Café Umi or The Retreat
Complimentary soft beverages and water from 11.00 – 18.00 hrs
Complimentary daily afternoon tea served at the Retreat and Café' Umi from 15.00 -17.00
Complimentary daily evening cocktails at the Retreat from 20.00 – 22.00 hrs
Pool side and beach refreshment available daily
Complimentary Snorkeling equipment : Snorkel, Mask, Fins, Deluxe Carrying Bag
WIFI in all guest service areas and villa or suite
Espresso machine, tea making facilities
Access to Fitness Centre & Public Area
Access to the Collective: Deli, Pizzeria, Gelato Bar
Access to the Planet Trekkers for children
Complimentary Half Board meal plan for period 10th – 31st January 2020 : 03 course Dinner served at Café Umi – beverages excluded
Packages DO NOT include:
ตั๋วเครื่องบินไป-กลับ กรุงเทพฯ-มัลดีฟส์ / Round Trip Air ticket Bangkok - Maldives
ดำน้้าลึก, การรับประทานอาหาร หรือกิจกรรมสันทนาการใดๆ ที่ไม่ได้ระบุไว้ข้างต้น / Scuba diving, other meals or activities that do not mentioned in the package
Honeymoon and Anniversary (Minimum 3 nights):
Honeymoon or Anniversary must be within (12) months of stay
A Bottle of Champagne upon arrival
Flower and flora bed decoration during turn down
Check in / Check Out:
Check in: 14.00 hrs.(เช็คอินช่วงเช้าได้ ในกรณีมีห้องพักว่าง) / Early check-in: possible when room is available.
Check out: 12.00 hrs.
หากต้องการใช้ห้องพักต่อ ระหว่างเวลา 12.00 น. ถึง18.00 น. คิดค่าบริการ 50% ของราคาห้องพัก / Day Use: 12.00 -18.00, room charge 50%.
หากใช้ห้องพักเกิน 18.00 น. คิดค่าบริการ100% ของราคาห้องพัก / Day use: over 18.00, room charge 100%.
Cancellation Policy:
45-31 วันก่อนเดินทาง: หักค่ามัดจำ 50% ของราคาห้องพักที่จองเข้าพักรวมทั้งหมด / 45-31 Days before arrival: cancellation charge 50%.
30 วันก่อนเดินทาง: เสียค่าบริการ 100% ตามราคาห้องพักที่จองเข้าพักรวมทั้งหมด / 30 days before arrival: cancellation charge 100%.
ยกเลิกกระทันหัน: หรือ พักไม่ครบตามที่จองไม่สามารถเรียกเงินคืนได้ / No show & early departure from the resort : charge 100%.