จำนวนครั้งที่เปิดดูสินค้า : 696 | ความคิดเห็น: 0
Sun Aqua Iru Veli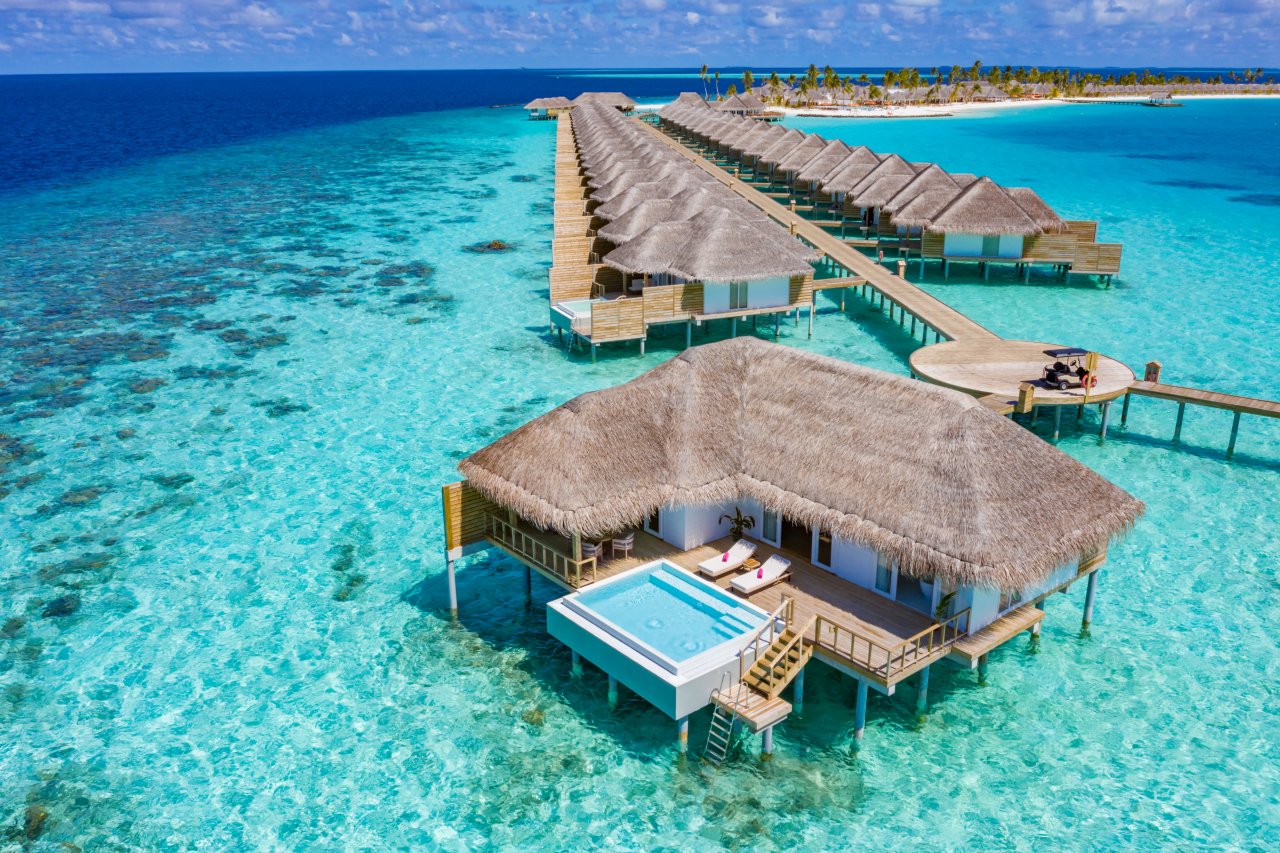 The Prices are quoted in Thai Currency (Baht)
Prices in these packages are for per person/ Twin Sharing room
Special Promotion
Traveling period: 1 Nov – 23 Dec 2019 ราคาสีแดงจองและชำระภายใน 15 มกราคม 2562
Departure Dates

Room Type

Price

2 nights

Price

3 nights

Price

4 nights

1 Nov – 23 Dec 2019

Beach Suite With Pool

49,500.00 35,900.00

63,900.00 45,500.00

78,500.00 54,900.00

Ocean Suite With Pool

52,500.00 37,900.00

68,900.00 48,500.00

84 900.00 58,900.00

Dolphin Ocean Suite

56,500.00 39,900.00

74,500.00 51,500.00

92,500.00 63,000.00
Traveling period: 24 Dec 2019 – 7 Jan 2020 ราคาสีแดงจองและชำระภายใน 15 มกราคม 2562
Departure Dates

Room Type

Price

2 nights

Price

3 nights

Price

4 nights

24 Dec 2019 – 7 Jan 2020

Beach Suite With Pool

67,900.00 46,900.00

91,500.00 61,900.00

115 500.00 76,900.00

Ocean Suite With Pool

69,900.00 48,900.00

94,500.00 64,900.00

119,500.00 79,900.00

Dolphin Ocean Suite

71,000.00 51,900.00

96,500.00 66,900.00

121,900.00 82,900.00
Traveling period: 8 Jan – 21 Apr 2020 ราคาสีแดงจองและชำระภายใน 15 มกราคม 2562
Departure Dates

Room Type

Price

2 nights

Price

3 nights

Price

4 nights

8 Jan – 21 Apr 2020

Beach Suite With Pool

56,500.00 39,900.00

74,000.00 51,500.00

92,000.00 63,000.00

Ocean Suite With Pool

59,500.00 41,900.00

79,000.00 54,500.00

98,900.00 67,000.00

Dolphin Ocean Suite

62,900.00 43,900.00

84,000.00 57,500.00

105,500.00 71,000.00
Traveling period: 22 Apr – 30 Sep 2020 ราคาสีแดงจองและชำระภายใน 15 มกราคม 2562
Departure Dates

Room Type

Price

2 nights

Price

3 nights

Price

4 nights

22 Apr – 30 Sep 2020

Beach Suite With Pool

46,000.00 33,900.00

58,900.00 42,500.00

71,900.00 51,000.00

Ocean Suite With Pool

49,500.00 35,900.00

63,900.00 45,500.00

78,500.00 54,900.00

Dolphin Ocean Suite

52,500.00 37,900.00

68,900.00 48,500.00

84,900.00 58,900.00
Extra Child

Price

2 nights

Price

3 nights

Price

4 nights

2 – 11.99 years

26,500.00

32,500.00

38,500.00
เงื่อนไขการเข้าพัก / Conditions:
ราคานี้ เป็นราคาต่อท่าน เดินทางเข้าพัก 2 ท่านต่อห้อง / Price per person base on twin sharing basic
รับจองห้องพัก 2 คืน ขึ้นไป / Minimum stay 2 nights
หมายเหตุ
**การเดินทางสู่รีสอร์ทนี้ต้องเดินทางด้วยเครื่องบิน Seaplane (หยุดให้บริการหลังเวลา 17.00 น.)/ Seaplane Transfer operate day time only. Guest arrival after 17.00 hrs.
**ข้อกำหนดสำหรับการเดินทางโดย Seaplane กระเป๋าเดินทางเช็คอิน มีน้ำหนักได้ไม่เกิน 20 กิโลกรัม ต่อคน หากน้ำหนักเกินกำหนด จะต้องเสียค่าระวางเพิ่มโดยตรงกับเจ้าหน้าที่สายการบิน/ Baggage allowance Seaplane Check-in Baggage up to 20 kg./person. Baggage in excess will be charged by the airline.
Packages Include:
รับ-ส่ง สนามบิน – รีสอร์ท – สนามบินด้วยเครื่องบินน้ำ / Round Trip transfer by Seaplane
ที่พักในรีสอร์ท / Accommodation at the resort
รวมค่าอาหารเช้า กลางวัน เย็น ทุกมื้อ ที่ห้องอาหาร รวมเครื่องดื่มที่ไม่มีและเครื่องดื่มที่มีแอลกอฮอล์ เช่น เหล้า เบียร์ ไวน์ ในบาร์ตาม List All Inclusive / All Inclusive Plan: including alcoholic & non-alcoholic drink.
การต้อนรับและอำนวยความสะดวกที่สนามบิน มาเล่ / Meet and greet at Male airport
บริการ Wi-Fi บริเวณพื้นที่ส่วนกลางและในวิลล่า/ Free Wifi in all area
Inclusive of GST Tax, Service charge, Green Tax
ค่าประกันภัยเดินทาง วงเงินท่านละ 1,000,000 บาท / Travel Insurance cover 1,000,000 baht
Complimentary VIP access to our lounge at seaplane terminal (arrivals only)
Special welcome with refreshing towels and sparkling wine (non-alcoholic beverages available upon request)
One complimentary shisha per suite per day
All Suite types will be provided with 2 bottles of 1 L water (non-carbonated house brand) per suite per day and tea & coffee facilities
Access to recreation and fitness centre (including indoor and outdoor activities such as tennis, 
table tennis and other table games)
Complimentary Babysitting service once per stay for 2 hours (24 hours advance booking required; 
Baby sitting or dedicated childcare under supervision for additional hours is chargeable at USD 20 per hour)
Selection Excursion: Lucky dolphin sunset cruise, guided snorkeling , safari tour and local island discovery per person per stay (depended on weather permitting, excursion schedule and minimum no. of guests)
Complimentary half an hour group wind surf lesson per person per stay (subject to weather conditions and minimum of 4 persons per group)
Free of charge snorkeling equipment, subject to charges to any damages or misplaced snorkeling equipment
Use of Stand Up Paddle, Kayaks & Paddle Boat
Complimentary 15 minutes Jet Ski ride per person per stay (subject to weather conditions)
Afternoon Tea at FRESH WATER 15.00 – 18.00
Scheduled regular evening entertainments for guests to enjoy
Spa Credit : Enjoy a Spa credit of USD 100 per adult per stay to be used for your treatment excluding Salon and retail items in spa (as an alternative to diving & cannot be accumulated) / Choose from our tailor made SPA menu for this special credit (advance booking is require)
Diving Credit : Guests can enjoy up to 3 (regular dives) per person per week as an alternative to spa treatments / To qualify for this, you must have a valid diving license and medical records as per diving regulations
Dining Experience:
Breakfast: Sumptuos breakfast sparkling wine available offering extensive buffet selection at AQUA ORANGE 07.30 - 10.00
Lunch : Selection of pizza/salad and light snacks at FRESH WATER OR buffet spread at AQUA ORANGE 12.30 – 15.00
Dinner-Dine Around Option: Extensive Buffet at AQUA ORANGE 19.00 – 22.00 Alfresco dining by the beach side at GROUPER GRILL 19.00 – 22.00 Enjoy exotic flavors at Mediterranean Restaurant, ROMA 19.00 – 22.00 (Advance reservation is required for a la carte restaurants Dine Around option includes set menu at GROUPER GRILL and ROMA A la carte menu option is available with 25% discount at GROUPER GRILL, ROMA and WINE CELLAR
Beverages:
Unlimited Selected Beverages Extensive selection of Wines from renowned vineyards around the world, including selected Sparkling Wines 

Selection of International Beer (draught, canned & bottled) 

Great selection of branded Spirits and Whiskeys
A selection of Signature and International Cocktails and Mocktails Detox & Healthy Juices, Fresh Juices (based on seasonality and availability of fruits) and Fruit Juices (canned & packaged) 

Soft Drinks: Coke, Diet Coke, Fanta Orange, Sprite, Ginger Ale, Tonic Water Bitter Lemon and Soda Water 

Coffee, Tea, Iced Coffee, Iced Tea, Espresso, Cappuccino, Latte and Macchiato (freshly brewed) 

Bottled Water (non-carbonated house brand) and Sparkling water 

Complimentary Minibar 
Replenished once per day at regular schedule:
Red, White & Rose Wine 

Canned Beer Selection of Snacks

Soft Drinks: Coke, Diet Coke, Fanta Orange, Sprite, Bitter Lemon, Tonic and Soda Water
Water (non-carbonated house brand) and Sparkling Water

Canned Iced Coffee and Iced Tea
Packages Do Not Include:
ตั๋วเครื่องบินไป-กลับ กรุงเทพฯ-มัลดีฟส์ / Round Trip Air ticket Bangkok – Maldives
ค่าใช้จ่ายที่นอกเหนือกล่าวมาข้างต้น อาทิ การทานอาหารใน Villa, ค่าซักรีด
ภาษีมูลค่าเพิ่ม 7% และ ภาษีหัก ณ ที่จ่าย 3%
Check in / Check Out:
Check in: 14.00 hrs. (เช็คอินช่วงเช้าได้ ในกรณีมีห้องพักว่าง) / Early check-in: possible when room is available.
Check out: 12.00 hrs.
หากต้องการใช้ห้องพักต่อ ระหว่างเวลา 1200 น. ถึง1800 น. คิดค่าบริการ 50% ของราคาห้องพัก / Day Use: 12.00 -18.00, room charge 50%.
หากใช้ห้องพักเกิน 1800 น. คิดค่าบริการ100% ของราคาห้องพัก / Day use: over 18.00, room charge 100%.
Cancellation Policy:
45 วันก่อนเดินทาง: หักค่ามัดจำ 50% ของราคาห้องพักที่จองเข้าพักรวมทั้งหมด / 45 Days before arrival: cancellation charge 50%.
30 วันก่อนเดินทาง: เสียค่าบริการ 100% ตามราคาห้องพักที่จองเข้าพักรวมทั้งหมด / 30 days before arrival: cancellation charge 100%.
ยกเลิกกระทันหัน: หรือ พักไม่ครบตามที่จองไม่สามารถเรียกเงินคืนได้ / No show & early departure from the resort : charge 100%.
For reservation, please contact 081 701-0091 or 02 538-1374
Facebook: All About Maldives