จำนวนครั้งที่เปิดดูสินค้า : 1496 | ความคิดเห็น: 0
Robinson Club Noonu Resort & Spa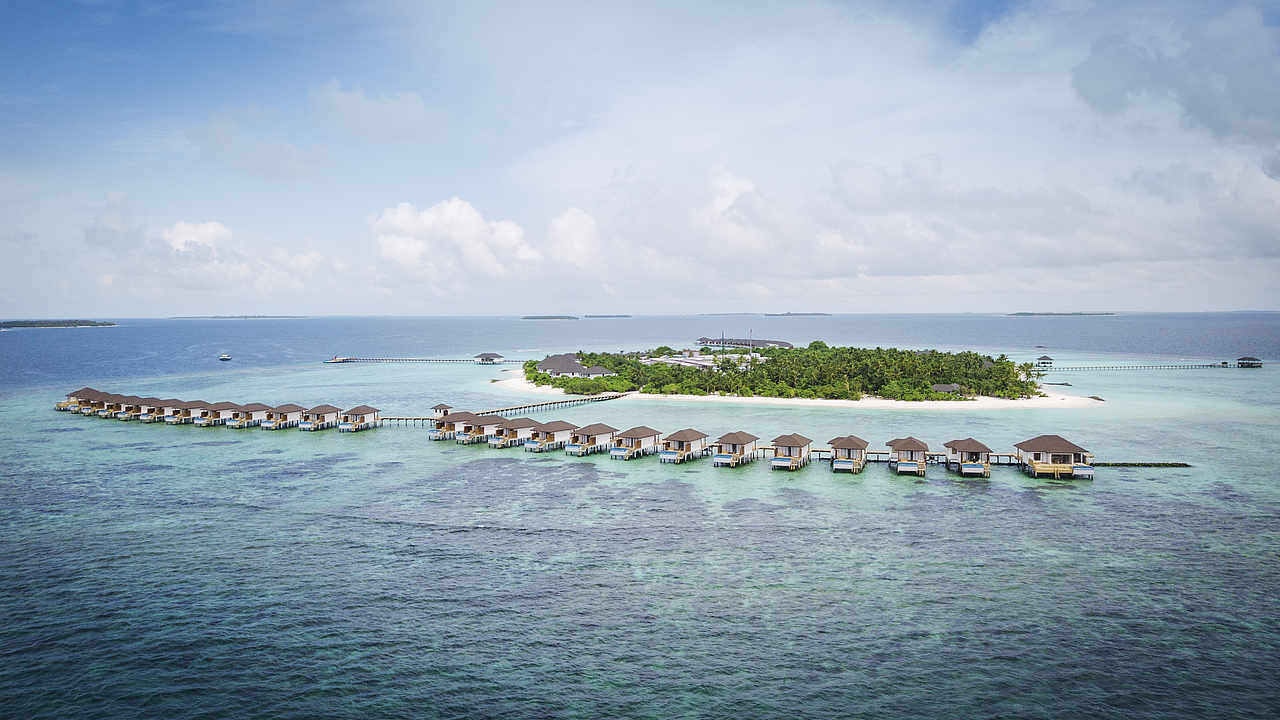 Location : Noonu Atoll
45 Minutes by Seaplane or 40 mins by domestic flight + 15 mins speed boat
The Prices are quoted in Thai Currency (Baht)
Prices in these packages are for per person/ Twin Sharing room
Special Promotion
Traveling Period: 5 Jan – 24 Apr 2019 ราคาพิเศษสีน้ำเงินไม่รวมช่วงการเดินทาง 1 - 10 Feb 2019
Departure Dates

Room type

(Twin sharing)

Special Price

2 nights

Special Price

3 nights

Special Price

4 nights

5 Jan – 24 Apr 2019

Double Room Seaview

45,900.00

57,800.00

69,600.00

Double Room Seaview Superior

44,800.00

56,100.00

67,300.00

Family Room

55,200.00

71,600.00

88,100.00

Garden Pool Bungalow

60,900.00

80,200.00

99,500.00

Beach Pool Bungalow

63,000.00

83,300.00

103,700.00

Overwater Pool Bungalow

71,400.00

69,900.00

95,900.00

74,500.00

120,500.00

Overwater Suite

98,500.00

136,600.00

174,700.00
Traveling Period: 25 – 30 Apr 2019
Departure Dates

Room type

(Twin sharing)

Special Price

2 nights

Special Price

3 nights

Special Price

4 nights

25 - 30 Apr 2019

Double Room Seaview

39,600.00

48,300.00

57,000.00

Double Room Seaview Superior

38,500.00

46,600.00

54,800.00

Family Room

42,100.00

52,100.00

62,000.00

Garden Pool Bungalow

55,200.00

71,600.00

88,100.00

Beach Pool Bungalow

56,200.00

73,200.00

90,200.00

Overwater Pool Bungalow

60,900.00

69,900.00

80,200.00

74,500.00

99,500.00

Overwater Suite

85,400.00

117,000.00

148,600.00
Traveling Period: 1 May – 12 Jul 2019
Departure Dates

Room type

(Twin sharing)

Special Price

2 nights

Special Price

3 nights

Special Price

4 nights

1 May – 12 Jul 2019

Double Room Seaview

38,700.00

46,900.00

55,100.00

Double Room Seaview Superior

37,500.00

45,100.00

52,700.00

Family Room

40,600.00

49,800.00

59,000.00

Garden Pool Bungalow

57,500.00

75,100.00

92,800.00

Beach Pool Bungalow

58,700.00

76,900.00

95,200.00

Overwater Pool Bungalow

63,500.00

57,600.00

84,200.00

74,500.00

104,800.00

Overwater Suite

97,800.00

135,500.00

173,300.00
Traveling Period: 13 Jul – 16 Aug 2019
Departure Dates

Room type

(Twin sharing)

Special Price

2 nights

Special Price

3 nights

Special Price

4 nights

13 Jul – 16 Aug 2019

Double Room Seaview

43,800.00

54,600.00

65,400.00

Double Room Seaview Superior

42,700.00

52,900.00

63,100.00

Family Room

47,100.00

59,600.00

72,000.00

Garden Pool Bungalow

57,500.00

75,100.00

92,800.00

Beach Pool Bungalow

66,000.00

87,800.00

109,700.00

Overwater Pool Bungalow

63,500.00

57,600.00

84,200.00

74,500.00

104,800.00

Overwater Suite

97,800.00

135,500.00

173,300.00
Traveling Period: 17 – 31 Aug 2019
Departure Dates

Room type

(Twin sharing)

Special Price

2 nights

Special Price

3 nights

Special Price

4 nights

17 – 31 Aug 2019

Double Room Seaview

38,700.00

46,900.00

55,100.00

Double Room Seaview Superior

37,500.00

45,100.00

52,700.00

Family Room

40,600.00

49,800.00

59,000.00

Garden Pool Bungalow

57,500.00

75,100.00

92,800.00

Beach Pool Bungalow

58,700.00

76,900.00

95,200.00

Overwater Pool Bungalow

63,500.00

57,600.00

84,200.00

74,500.00

104,800.00

Overwater Suite

97,800.00

135,500.00

173,300.00
Traveling Period: 1 – 28 Sep 2019
Departure Dates

Room type

(Twin sharing)

Special Price

2 nights

Special Price

3 nights

Special Price

4 nights

1 – 28 Sep 2019

Double Room Seaview

43,800.00

54,600.00

65,400.00

Double Room Seaview Superior

42,700.00

52,900.00

63,100.00

Family Room

47,100.00

59,600.00

72,000.00

Garden Pool Bungalow

57,500.00

75,100.00

92,800.00

Beach Pool Bungalow

66,000.00

87,800.00

109,700.00

Overwater Pool Bungalow

63,500.00

57,600.00

84,200.00

74,500.00

104,800.00

Overwater Suite

97,800.00

135,500.00

173,300.00
Traveling Period: 29 Sep – 31 Oct 2019
Departure Dates

Room type

(Twin sharing)

Special Price

2 nights

Special Price

3 nights

Special Price

4 nights

29 Sep – 31 Oct 2019

Double Room Seaview

47,100.00

59,600.00

72,000.00

Double Room Seaview Superior

45,900.00

57,800.00

69,600.00

Family Room

51,500.00

66,100.00

80,700.00

Garden Pool Bungalow

60,900.00

80,200.00

99,500.00

Beach Pool Bungalow

61,900.00

81,800.00

101,600.00

Overwater Pool Bungalow

71,900.00

57,600.00

96,800.00

74,500.00

121,600.00

Overwater Suite

104,900.00

146,300.00

187,600.00
Conditions:
ช่วงปกติ รับจองห้องพัก 2 คืน ขึ้นไป / Minimum stay 2 nights.
ราคานี้ เป็นราคาต่อท่าน เดินทางเข้าพัก 2 ท่านต่อห้อง / Price per person base on twin sharing basic.
Remark:
การเดินทางสู่รีสอร์ทนี้ต้องเดินทางด้วยเครื่องบิน Seaplane (หยุดให้บริการหลังเวลา 17.00 น.) / Seaplane Transfer operates day time only. Guest arrival after 16.00 hrs. have to overnight in Male'
ข้อกำหนดสำหรับการเดินทางโดย Seaplane กระเป๋าเดินทางเช็คอิน มีน้ำหนักได้ไม่เกิน 20 กิโลกรัม ต่อคน หากน้ำหนักเกินกำหนด จะต้องเสียค่าระวางเพิ่มโดยตรงกับเจ้าหน้าที่สายการบิน / Check-in Baggage up to 20 kg. /person. Baggage in excess will be charged by the airline.
Packages include:
รับ-ส่ง สนามบิน – รีสอร์ท – สนามบินด้วยเครื่องบินน้ำ /Round Trip transfer by Seaplane
การต้อนรับและอำนวยความสะดวกที่สนามบิน มาเล่ / Meet and greet at Male airport
ที่พักในรีสอร์ท / Accommodation at the resort
รวมค่าอาหารเช้า กลางวัน เย็น ทุกมื้อ รวมครื่องดื่ม
ฟรี อุปกรณ์ดำน้ำ
Inclusive of GST Tax, Service charge, Green Tax.
ประกันภัยเดินทาง/ Travel Insurance
Packages DO NOT include:
ตั๋วเครื่องบินไป-กลับ กรุงเทพฯ-มัลดีฟส์ / Round Trip Air ticket Bangkok - Maldives
ดำน้้าลึก, การรับประทานอาหาร หรือกิจกรรมสันทนาการใดๆ ที่ไม่ได้ระบุไว้ข้างต้น / Scuba diving, other meals or activities that do not mentioned in the package
All-inclusive made by ROBINSON:
The all-inclusive package made by ROBINSON includes meals served in the Main Restaurant buffet style:
Breakfast 08:00 am – 11:00 am
Lunch01:00 pm – 02:30 pm
Dinner07:30 pm – 09:30 pm
Buffets created by ROBINSON include dishes from all over the world including several countries of Asia.The buffets are change on a daily basis and offer a wide selection of dishes to meet all our guests taste.
Unlimited alcoholic and non-alcoholic beverages as follows are included, please note that these beverages are served one glass at a time only.
Water:ROBINSON bottled water still and sparkling
Soft drinks:Coke, Coke ZERO, Fanta orange, Sprite, tonic water, ginger beer, ginger ale, soda
Juices:Packet juices, fresh juice of the day, smoothies
Beer:Draught beer, Lion, Singha, Sol and Heineken, cider, non-alcoholic beer
Hot Drinks:Coffee, tea, iced tea, ices coffee, espresso, cappuccino, latte macchiato
Wine:House wine red, white and rose
Sparkling Wine:House sparkling wine
Branded spirits:
- Vodka: Smirnoff, Finlandia, Absolute Blue, Russian Standard, Absolute Citron
- Gin: Beefeaters and Gordon
- Rum: Bacardi, Captain Morgen and Havana Club
- Whisky/ Whiskey: Jonnie Walker Red, Ballantine's, Canadian Club, Jim Beam white, Jameson's
- Others: Branded brandy, aperitifs, digestives and liqueurs
- Cocktails and mocktails as offered in the menu
Additional F&B services included in the all-inclusive package are the following:
Complementary aperitif and digestive served at specialty restaurants with your table booking
Complementary welcome drink
Complementary Gala Aperitif with selected finger foods every Saturday
Weekly served set Gala Menu including high end products such as beef tenderloin
Selection of teas and coffee in the room (Nespresso machine) refilled once a day
Complementary ROBINSON bottled water in the room, refilled once a day
Complementary Entertainment & Wellfit program offered with the all-inclusive package:
Free use of the gym, sauna, beach volleyball, beach soccer, badminton, table tennis, table kicker, billiard, boccia, cross-golf, dart
Daily free sauna infusion at pre announce time
Free participation at the following fitness & Wellfit classes:
- Body Styling
- CORE abs/back
- Aqua Fit
- Functional Training / deepWORK
- Felxi Bar
- Yoga
- Stretch & Relax
- Fascia Training
- ROBINSON dreams
- PMR (Progressive muscle relaxation)
Free use of the snorkeling equipment from the water sports base (mask, snorkel and fins)
Daily changing Entertainment program including changing even programs such as:
- Cinema
- Casino
- Live DJ
- Live band
- Local drummers

Check in / Check Out:
Check in: 14.00 hrs. (เช็คอินช่วงเช้าได้ ในกรณีมีห้องพักว่าง) / Early check-in: possible when room is available.
Check out: 12.00 hrs.
หากต้องการใช้ห้องพักต่อ ระหว่างเวลา 1200 น. ถึง1800 น. คิดค่าบริการ 50% ของราคาห้องพัก / Day Use: 12.00 -18.00, room charge 50%.
หากใช้ห้องพักเกิน 18.00 น. คิดค่าบริการ100% ของราคาห้องพัก / Day use: over 18.00, room charge 100%.
Cancellation Policy:
45 - 31 วันก่อนเดินทาง: หักค่ามัดจำ 25% ของราคาห้องพักที่จองเข้าพักรวมทั้งหมด/ 40 - 31 days before arrival: cancellation charge 25%
30 - 15 วันก่อนเดินทาง: เสียค่าบริการ 50% ตามราคาห้องพักที่จองเข้าพักรวมทั้งหมด /30- 15 days before arrival: cancellation charge 50%
14 วันก่อนเดินทาง: เสียค่าบริการ 100% ตามราคาห้องพักที่จองเข้าพักรวมทั้งหมด /14 days before arrival: cancellation charge 100%
ยกเลิกกระทันหัน: หรือ พักไม่ครบตามที่จองไม่สามารถเรียกเงินคืนได้ / No show & early departure from the resort : charge 100%.

For reservation, please contact 081 701-0091 or 02 538-1374
Facebook: All About Maldives