จำนวนครั้งที่เปิดดูสินค้า : 3805 | ความคิดเห็น: 0
OZEN LIFE MAADHOO, MALDIVES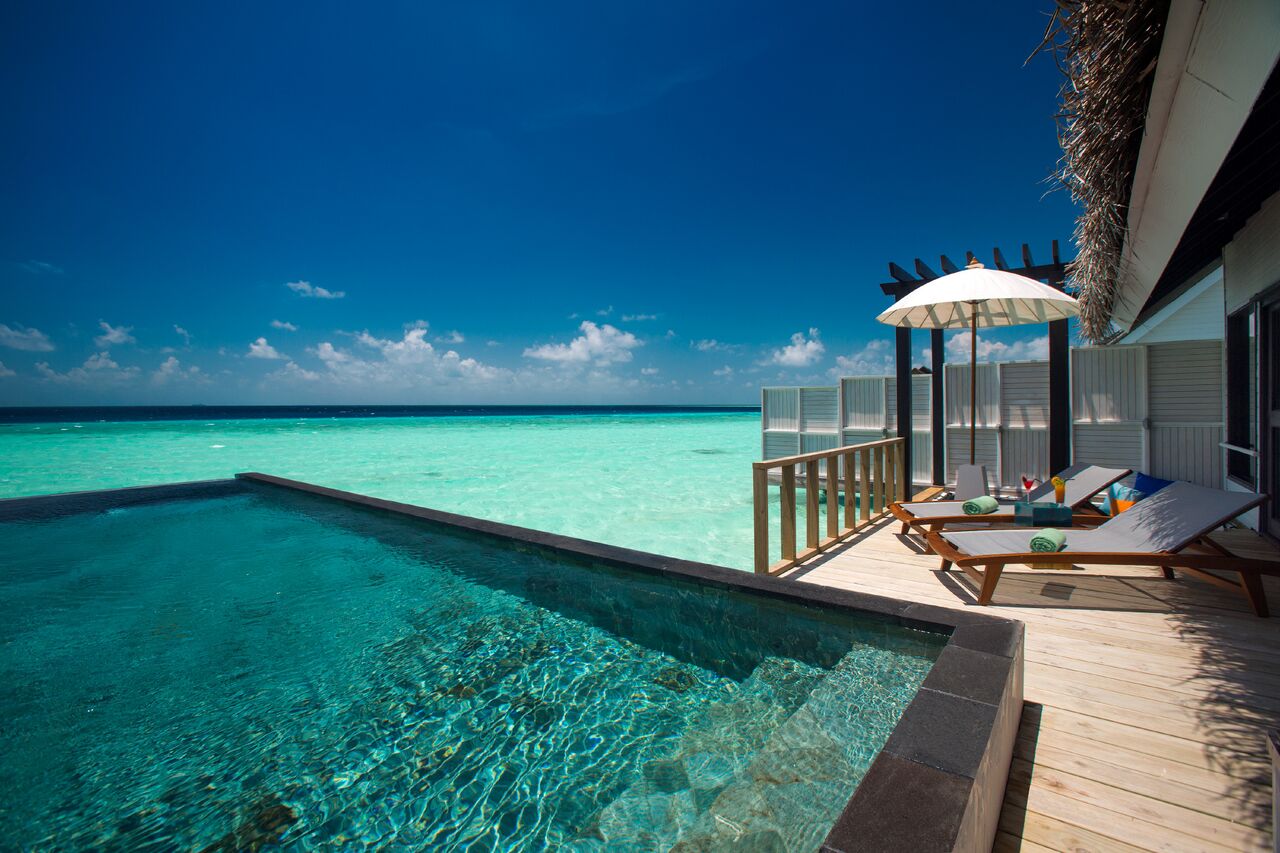 Location: South Male Atol
l
Transfer: 45 Minutes by Speedboat
The Prices are quoted in Thai Currency (Baht)
Prices in these packages are for per person/ Twin Sharing room
The Company reserves the right to change the price if there's the significant changing
TRAVELING PERIOD: 20 DEC 20201 – 8 JAN 2022
แพคเกจเป็น
INDULGENCE PLAN (ALL INCLUSIVE)
หากมีราคาพิเศษกว่านี้ออกมา จะไม่สามารถ
rebook
ได้
TRAVELING PERIOD: 9 JAN – 18 APR 2022
แพคเกจเป็น INDULGENCE
PLAN (ALL INCLUSIVE)
หากมีราคาพิเศษกว่านี้ออกมา จะไม่สามารถ
rebook
ได้
TRAVELING PERIOD: 19 APR – 31 OCT 2022
แพคเกจเป็น
INDULGENCE PLAN (ALL INCLUSIVE)
หากมีราคาพิเศษกว่านี้ออกมา จะไม่สามารถ
rebook
ได้
Earth Villa/ Earth Villa with Pool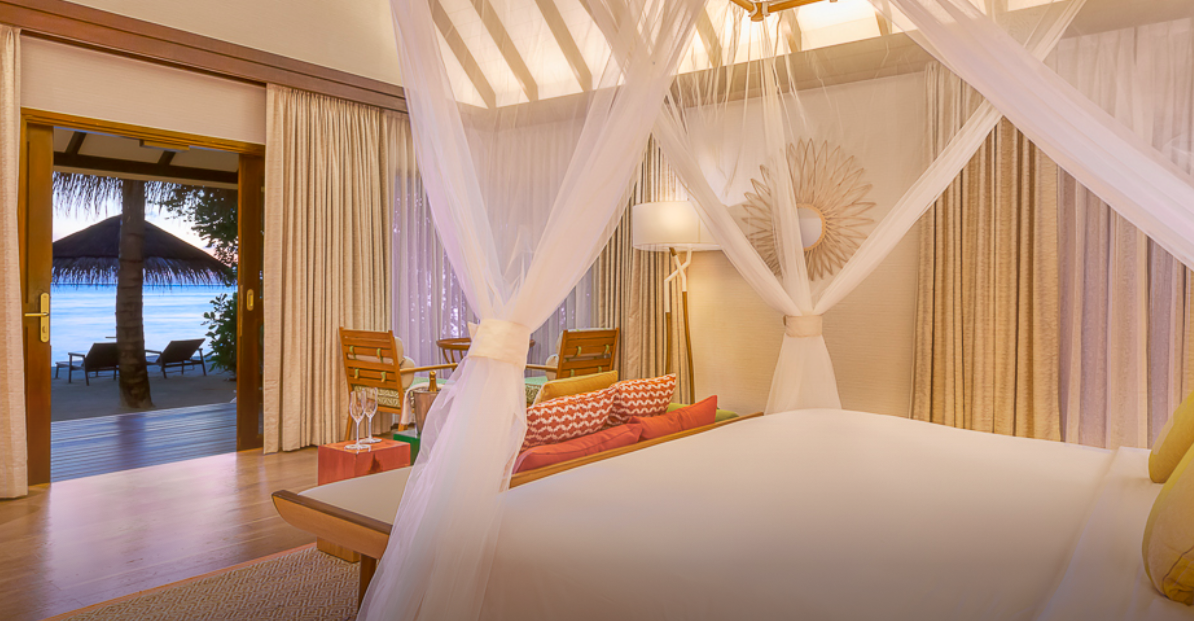 Wind Villa/ Wind Villa with Pool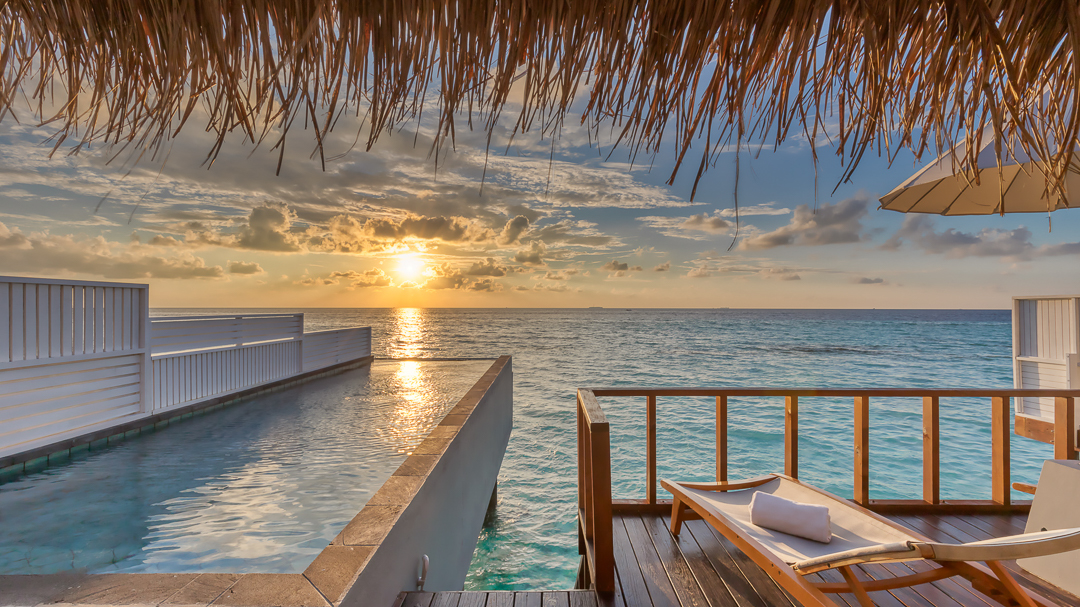 เงื่อนไขการเข้าพัก
/ CONDITIONS:
ช่วงปกติพัก

2

คืน

/ Minimum stay 2 nights

ราคานี้ เป็นราคาต่อท่าน เดินทางเข้าพัก

2

ท่าน ต่อห้อง /

Price per person base on twin sharing basic.

ราคาข้างต้นเป็นราคา ณ ปัจจุบัน หากมีโปรโมชั่นใหม่ไม่สามารถ

re-book

ได้

ราคาข้างต้นเป็นราคาตามอัตราแลกเปลี่ยน ณ ปัจจุบัน หากมีการเปลี่ยนแปลงของอัตราแลกเปลี่ยนในอัตราที่สูง ณ ช่วงเวลาที่ทำการจอง บริษัทฯ

ขอสงวนสิทธิ์ในการเปลี่ยนแปลงราคา

ราคาข้างต้นคำนวณจากราคาและอัตราภาษีของประเทศมัลดีฟส์ ณ อัตราปัจจุบัน (

GST

และภาษีอื่นๆ) ซึ่งอาจจะมีการผันแปรหรือเปลี่ยนแปลงตามการเปลี่ยนแปลงของรีสอร์ทได้
ค่ารับส่ง สนามบิน-ที่พัก-สนามบิน ด้วยเรือ

Speedboat / Round trip Transfer Airport - Resort – Airport by Speedboat

ค่าที่พักในรีสอร์ท /

Accommodation at the resort

อาหารเช้า อาหารกลางวันและอาหารค่ำ พร้อมเครื่องดื่มและกิจกรรมตามเงื่อนไขของรีสอร์ท

(ตามรายละเอียดด้านล่าง)

/ Indulgence Plan : All Inclusive meal plan (Detail is below)

ภาษีและ

Service Charge

ประเทศมัลดีฟส์ อัตราปัจจุบัน

/

GST and Service Charge of Maldives as current rate

เจ้าหน้าที่ต้อนรับที่สนามบิน

Male' / Meet and greeting at Male' International Airport

ประกันภัยเดินทาง

(

ตามเงื่อนไขกรมธรรม์) /

Travel Insurance (Conditions apply)
THE ATMOSPHERE INDULGENCE PACKAGE (END ON DEPARTURE DATE AT 11.00 AM)
o THE PALMS – ALL-DAY DINING
BREAKFAST

- 07:00 - 11:00

Sumptuous Champagne breakfast with an impressive menu that spans the globe, accompanied by fresh fruits station, gourmet cheese platter, cold cuts, smoked meat, bakery items, and a variety of "à la carte" options made to order.

LUNCH & DINNER

- 12:30 - 15:00 & 19:00 - 22:30

Variety of daily specials and "à la carte" dishes with Mediterranean influences, made to order from menu and live cooking stations, along with an extensive salad and dessert bar

GRAND INDIAN OCEAN GALA DINNER

Every Friday at THE PALMS featuring expansive dinner spread with Maldivian entertainment, live music, and welcome cocktail (All Other outlets closed for dinner).
o JOIE DE VIVRE
POOLSIDE KITCHEN 11:00 - 21:00 Offering refreshing meals, fresh salads, and pizzas made to order throughout the day
o R.A.W.
o TRADITIONS INDOCEYLON
o TRADITIONS PEKING
o MINUS SIX METERS
LUNCH & DINNER - 12:30 - 15:00 & 19:00 - 22:30 Underwater fine dining surrounded by breathtaking views of marine life. Featuring contemporary seafood cuisine with perfect wine pairings
BEVERAGES:
o
PREMIUM SELECTIONS AT THE PALMS, JOIE DE VIVRE, TRADITIONS INDOCEYLON, TRADITIONS PEKING AND M6M
o ELITE CELLAR SELECTIONS
Over 80 labels of wines from renowned vineyards of the Old & New Worlds such as Bordeaux, Burgundy (FRA), Valpolicella, Chianti (ITA), Marlborough (NZ) Californian Chardonnay, Argentinian Malbec, and German Riesling
o INDULGENCETM COCKTAILS, SPIRITS & BEERS
Collection of internationally popular Cocktails

Signature Cocktails, Mocktails

Collection of Beers from world-over

Fresh Juices, Milk Shakes, Soft Drinks, and Mineralized water Premium Selection of Tea and Coffee
O JOIE DE VIVRE – POOL BAR
Open 09:00 - 01:00

Top-quality drinks and refreshing meals, such as calamari sandwiches, served in the comfort of pool side sun loungers and romantic, shaded cabanas
o GIN IS IN
Open 17:00 - 23:00

A Sundowner Adults-only bar with over 18 kinds of rare and exquisite Gin brands offering diverse herbal, organic, and exotic flavors along with a wide selection of tonics
FULL ACCESS to SPA

:

Relax, Revitalize, & Soothe Your Senses

FULL GYM ACCESS: Fully Equipped Gymnasium, Indoor, & Outdoor Activities

FULL TENNIS ACCESS: Modern Flood-lit Tennis Court

ONE ADVENTURE EXCURSION: From the excursion menu per stay (weather permitting)

SUNSET FISHING: Once per guest per stay (weather permitting)

DOLPHIN BASE AT OZEN LIFE MAADHOO

:

Complimentary Snorkeling equipment for all guests during stay

UNLIMITED SNORKELING EXCURSIONS DURING STAY:

2 Snorkeling Excursion Shuttles per day (09:30 & 15:00) Arranged daily from a selection of nearby snorkeling sites (weather permitting)

COMPLIMENTARY RENTAL OF NON-MOTORIZED WATER SPORTS: Windsurfing, Catamaran, Canoe, Stand-up Paddle Board

OZEN KIDS CLUB

:

Children and young adults can enjoy a variety of daily organized activities, games, and island fun

OZEN SPECIAL ACTIVITIES & EVENTS

:

Weekly & Seasonally. Grand Indian Ocean Themed night is celebrated at The Palms on Fridays – with Maldivian entertainment, live music, and welcome cocktail. All the other dining outlets are closed on Fridays on the occasion of Grand Indian Ocean Themed night celebration
- Eligible only for adults 12 yrs old & above with minimum 4-night stay
-
Children under 12 yrs old can only dine every Monday and Thursday during "LUNCH WITH FAMILY"
- Eligibility for additional fine dining experience at M6m is valid for 14 nights stay
IN-VILLA MINI BAR: Replenished once daily with Champagne, Wine, Beers, Soft drinks & Snacks Selection

EXCLUSIVE SPA OR DIVE SERVICES FOR GUESTS*
- Choose from a selection of SPA or DIVE services Depending on the total number of nights of stay
ELIGIBILITY PER STAY PERIOD:
- 4-5 Nights Stay
ONE 60 Minute Spa OR ONE Dive
- 6-8 Nights Stay TWO 60 Minute Spa OR TWO Dives
- 9-12 Nights Stay THREE 60 Minute Spa OR THREE Dives
- 13-16 Nights Stay
FOUR 60 Minute Spa OR FOUR Dives
- 17 & Above Nights Stay FIVE 60 Minute Spa OR FIVE Dives
*Guest must hold a VALID Dive Certificate *SPA Service not applicable to BELOW 12 yrs.
IMPORTANT NOTES RELATING TO SPA OR DIVE SERVICES
***Vouchers would be issued to the respective villa upon check-in, as part of the arrival process. Guests can redeem these vouchers as per their taste & requirement. Example: villa 124 staying for 9 nights will receive six vouchers and it is up to the clients to redeem these vouchers for six spa services or six dive services or three spa & three dive services.

The unique identification is the Villa Number

***No refund is applicable if the vouchers are not utilized during the specific stay. The voucher becomes null & void at the end of the specified stay period

***Vouchers are non-encashable, non-transferable to another villa, if unutilized. All vouchers have to be used by the registered residents of the villa itself, based on the unique villa number assigned within the voucher

***Vouchers would be issued based on the number of persons booked into the respective villa

***The dive and spa service would not be applicable for below 12 years

***Diving is only eligible for certified divers who pass the competence check from the dive master. Final decision is at the discretion of the dive school management

***The dive services exclude equipment rental, courses, and other rental/fees levied by the dive operator. The resort will not be responsible for any additional expenses involved for availing the diving privileges. Ascertain charges before proceeding

***In lieu of diving, guest may use the value of a single dive for any other activity at the dive center

***If it is proved that the vouchers have been mishandled, misused, or misappropriated during stay by any customer, the resort reserves the right to withdraw / cancel the vouchers with immediate effect
EXCLUSIVE SERVICES FOR VILLA WITH POOL :
EARTH VILLA WITH POOL AND WIND VILLA WITH POOL
Direct Check-In at Villa

Welcome bottle of Champagne in the villa with canapés

Daily refreshed Fruit Basket

2 bottles of preferred SPIRITS of customer's choice (selected from the MINI bar Spirit menu) to be placed in villa ONCE during stay.

2 bottles of WINE of customer's choice – 1 white & 1 red (refilled daily) from the INDULGENCE Wine menu to be placed in villa

Early morning Muffin Service with special tea/coffee service (optional – unit 08:00am)
HONEYMOON BENEFITS AND CONDITIONS:
Romantically shaped Bed decoration – once per stay (Turn-down service would be on the 01stor 2ndevening depending on the arrival time)

Romantic candle-light dinner for the couple once during stay

One honeymoon cake

Romantic Turn-down service – Aromatic bubble bath – once per stay (on request)

Honeymoon Memento as a parting honeymoon gift

Minimum 4 nights stay required to avail the benefits.

Copy of marriage certificate of less than 12 months to be presented at the time of booking and upon check in.
บัตรโดยสารเครื่องบินไปและกลับ เส้นทางกรุงเทพฯ

–

มาเล่

/ Round trip air ticket BKK – MALE

การรับประทานอาหารภายในวิลล่า

/ Dining in the Villa

ดำน้ำลึก

,

การรับประทานอาหาร หรือกิจกรรมสันทนาการใดๆ ที่ไม่ได้ระบุไว้ข้างต้น

/ Scuba diving, other meals or activities that do not mentioned in the package

ประกันการเดินทางที่ครอบคลุมการกักตัว

,

การรักษาตัว

,

การเปลี่ยนแปลงการเดินทาง เนื่องจากสถานการณ์โควิด

19

การตรวจ

RT-PCR test

ก่อนกาเดินทางเข้าประเทศมัลดีฟส์และการตรวจ

RT-PCR test

ก่อนการกลับเข้าประเทศไทย ตามมาตรการของแต่ละประเทศ

TEST and GO

เมื่อเดินทางกลับเข้ามาประเทศไทย
Check in: 14.00 hrs. (

เช็คอินช่วงเช้าได้ ในกรณีมีห้องพักว่าง) /

Early check-in: possible when room is available.

Check out: 12.00 hrs.

หากต้องการใช้ห้องพักต่อ ระหว่างเวลา

12.00

น. ถึง

18.00

น. คิดค่าบริการ

50%

ของราคาห้องพัก /

Day Use: 12.00 -18.00, room charge 50%.

หากใช้ห้องพักเกิน

18.00

น. คิดค่าบริการ

100%

ของราคาห้องพัก /

Day use: over 18.00, room charge 100%.
มากกว่า

45

วันก่อนการเดินทาง หักค่ามัดจํา

5,000

บาทต่อท่าน /

More than 45 days before arrival: cancellation charge 5,000 baht per person

45 – 31

วันก่อนเดินทาง หักค่ามัดจำ

50%

ของราคาห้องพักที่จองเข้าพักรวมทั้งหมด /

45 - 31 days before arrival: cancellation charge 50%.

30

วันก่อนเดินทาง เสียค่าบริการ

100%

ตามราคาแพ็คเกจที่จองเข้าพักรวมทั้งหมด /

30 days before arrival: cancellation charge 100%.

ยกเลิกกระทันหันหรือพักไม่ครบตามที่จองไม่สามารถเรียกเงินคืนได้ /

No show & early departure from the resort : charge 100%.

ทั้งนี้บริษัทฯ ขอสงวนสิทธิในการเปลี่ยนแปลงข้อกำหนดและเงื่อนไขในกรณียกเลิกหรือแก้ไขแพ็คเกจการเดินทาง ตามความเหมาะสม โดยมิต้องแจ้งให้ทราบล่วงหน้า
For reservation, please contact 081 701-0091 or 02 538-1374
Facebook: All About Maldives