CONSTANCE MOOFUSHI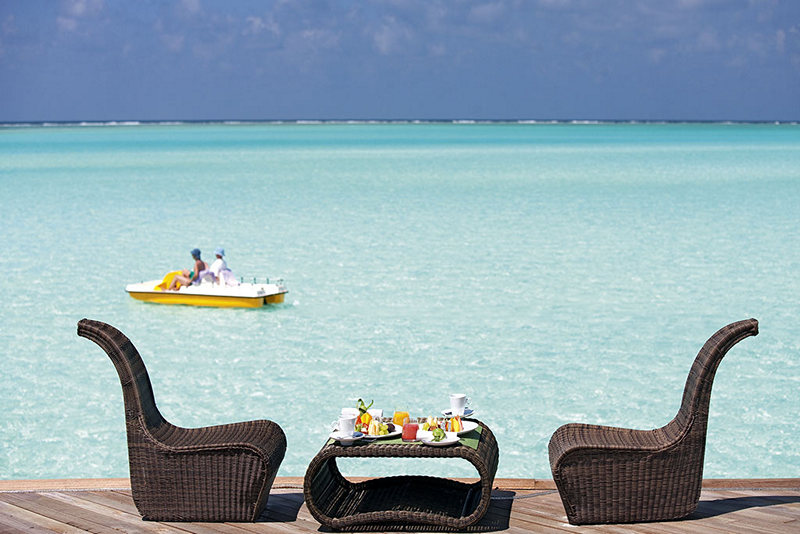 Location : Ari Atoll
Transfer: Seaplane 25 mins
The Prices are quoted in Thai Currency (Baht)
Prices in these packages are for per person/ Twin Sharing room
Special Promotion
1 Jun - 13 Jul 2019
โปรโมชั่นสำหรับการชำระเงินเต็มจำนวน ราคาสีน้ำเงิน ส่งจองล่วงหน้ามากกว่า 30 วัน และ ราคาสีแดงจองภายในวันที่ 30 มิ.ย.62
Departure Dates

Room type

Special Price

3 Nights

Special Price

4 Nights

1 Jun - 13 Jul 2019

Beach Villas

72,000 48,400

89,500 58,400

Water Villa

77,400 45,000

96,700 54,100

Senior Water Villa

88,200 57,700

111,000 70,700
14 Jul – 30 sep 2019
โปรโมชั่นสำหรับการชำระเงินเต็มจำนวน ราคาสีน้ำเงิน ส่งจองล่วงหน้ามากกว่า 30 วัน และ ราคาสีแดงจองภายในวันที่ 30 มิ.ย.62
Departure Dates

Room type

Special Price

3 Nights

Special Price

4 Nights

14 Jul – 30 Sep 2019

Beach Villas

77,400 51,500

96,700 62,600

Water Villa

82,800 47,500

103,900 57,500

Senior Water Villa

90,900 59,200

114,700 72,800
01 Oct – 22 Dec 2019
โปรโมชั่นสำหรับการชำระเงินเต็มจำนวน ราคาสีน้ำเงิน ส่งจองล่วงหน้ามากกว่า 30 วัน
Departure Dates

Room type

Special Price

3 Nights

Special Price

4 Nights

01 Oct – 22 Dec 2019

Beach Villas

89,300 58,300

112,600 71,600

Water Villa

94,700 61,400

119,800 75,700

Senior Water Villa

104,40066,900

132,700 83,100
เงื่อนไขการเข้าพัก / Conditions:
ช่วงปกติ Minimum stay 2 nights
หมายเหตุ :
การเดินทางสู่รีสอร์ทนี้ต้องเดินทางด้วยเครื่องบิน Seaplane (หยุดให้บริการหลังเวลา 17.00 น.) Remark: Seaplane Transfer operate day time only. Guest arrival after 16.00 hrs. have to over night in Male'
ข้อกำหนดสำหรับการเดินทางโดย Seaplane กระเป๋าเดินทางเช็คอิน มีน้ำหนักได้ไม่เกิน 20 กิโลกรัม ต่อคน หากน้ำหนักเกินกำหนด จะต้องเสียค่าระวางเพิ่มโดยตรงกับเจ้าหน้าที่สายการบิน / Check-in Baggages up to 20 kg./person. Baggage in excess will be charged by the airline.
Packages include:
รับ-ส่ง สนามบิน – รีสอร์ท – สนามบินด้วยเครื่องบินน้ำ / Round Trip transfer by Seaplane
การต้อนรับและอำนวยความสะดวกที่สนามบิน มาเล่ / Meet and greet at Male airport
ที่พักในรีสอร์ท / Accommodation at the resort
ค่าอาหารเช้า กลางวัน เย็น ทุกมื้อ รวมครื่องดื่ม และ เครื่องดื่มที่มีแอลกอฮอล์ เช่น เหล้า เบียร์ ไวน์ ในบาร์เครื่องดื่มในเวลาที่กำหนด / CRISTAL ALL INCLUSIVE PLAN : including alcoholic & non-alcoholic drink.
Inclusive of GST Tax, Service charge, Green Tax.
ประกันอุบัติเหตุในการเดินทาง / Travel Insurance
Packages DO NOT include:
ตั๋วเครื่องบินไป-กลับ กรุงเทพฯ-มัลดีฟส์ / Round Trip Air ticket Bangkok - Maldives
CRISTAL ALL INCLUSIVE PLAN
All inclusive Package will start at lunch time on day of arrival and will finish after breakfast on day of departure and includes:
§ Large Variety of Super Premium branded spirits and International Beers, our main bar remaining open until late 00h30.
§ Large selection of fresh drinks, soft drinks, mineral water including our own produced mineral water.
§ Unlimited access to cocktails & Constance signature drinks menu.
§ International Wine list inclusive of wines from around the world (France, Italy and the New World). Many wines directly imported from small wineries.
§ Mini-bar stocked with selected red & white wine, beers, soft drinks, Moofushi water and snacks. Mini bar refilled once daily.
§ All meals (breakfast, lunch and dinner) in our Manta restaurant with daily themed buffet menus. Lunch is also available at Totem Bar (with a la carte menu).
§ One A la carte dinner once per stay of 7 nights at our Alizée Beach Grill Restaurant . (Wine and Beverages included as per Cristal package)
§ Afternoon tea served at Totem Bar from 16h00 – 18h00.
§ A complimentary cake for Birthday and Wedding Anniversary (when known in advance).
§ Cigarettes available from each bar by piece, served individually from the Humidor.
§ Snorkeling equipment for each guest at the boat house.
§ One boat excursion during stay to be selected from the available scheduled activities though Bluetribe excursion center.
§ Guided snorkeling excursions (from the beach) to book 24h before through Bluetribe Excursion Center (timings for the beach snorkeling may change day by day)
§ Complimentary on demand movies available on our Mac mini system.
§ Play Station 3 available on request for children.
§ IPod docking stations in Villas played through the television system available upon request.
§ Fitness center, all indoor games, all non-motorized water-sports (excluding lessons).
§ Entertainment (by professional DJ) every evening in our main bar, except every Sundays.
§ "Bodu Meru" Maldivian evening once per week in main bar or on main beach.
§ Management cocktail once per week.
§ Personal greeting for all guests & escorted transfer to Constance Hotels & Resorts seaplane private lounge with outside relaxing area. Transport is by our own private bus.
§ Complimentary snacks / Beverages / Internet access available whilst waiting for your Sea Plane.
§ Before any activity or before the use of any Water Sports facility, guests will receive a detailed briefing from the Bluetribe Team regarding 'Water, health & safety'
§ Regular presentation from the water sports team
§ Free Wi-Fi at the Manta Bar, Totem Bar, Entertainment Lounge & Hospitality Lounge, Pool area and all Villas.
§ Nespresso Coffee machine and daily capsules replenishment in Senior Water Villas.
§ Check-in formalities done at the Airport Lounge prior to arriving at the resort.
§ Hospitality Lounge with showers, snacks and relaxation area available on the resort for early arrivals and late departures.
§ One 'Introduction to scuba diving' in the swimming pool during stay to be booked through Bluetribe Diving Center
§ One weekly presentation about the preservation of our fragile coral reef and its inhabitants
Chargeable services (subject to 5% service charge except for Seaplane and Boutique items)
Treatment and retails at le Spa de Constance
Excursions not included in the package
Diving with Blue Tribe
Any other extra excursions not included in the package
Extra dinners at Alizee Beach Grill Restaurant
Laundry
Retails at Dive Center, Boutique & Jewellery Shop
Ultra Premium spirits, liqueurs, selected wines & Champagnes
Babysitting service
Lobster menu at Alizée Beach Grill Restaurant
Return Seaplane transfer
Private dining experience (Cinefushi & other Destination dining)
Any water sports & fitness lessons
Special for Honeymooner
A fruit & sparkling wine.
50% discount per pex on any spa treatment once.
Check in / Check out
Check in: 14.00 hrs.(เช็คอินช่วงเช้าได้ ในกรณีมีห้องพักว่าง) / Early check-in: possible when room is available.
Check out: 12.00 hrs.
หากต้องการใช้ห้องพักต่อ ระหว่างเวลา 1200 น. ถึง1800 น. คิดค่าบริการ 50% ของราคาห้องพัก / Day Use: 12.00 -18.00, room charge 50%.
หากใช้ห้องพักเกิน 1800 น. คิดค่าบริการ100% ของราคาห้องพัก / Day use: over 18.00, room charge 100%.
Cancellation Policy
มากกว่า 45 วันก่อนการเดินทาง: หักค่ามัดจํา 5,000 บาทต่อท่าน / More than 45 days before arrival: cancellation charge 5,000 baht per person
45 - 31 วันก่อนเดินทาง: หักค่ามัดจำ 50% ของราคาห้องพักที่จองเข้าพักรวมทั้งหมด / 45 -31 Days before arrival : cancellation charge 50%
30 วันก่อนเดินทาง: เสียค่าบริการ 100% ตามราคาห้องพักที่จองเข้าพักรวมทั้งหมด / 30 days before arrival : cancellation charge 100%.
ยกเลิกกระทันหัน: หรือ พักไม่ครบตามที่จองไม่สามารถเรียกเงินคืนได้ / No show & early depature from the resort : charge 100%.
ทั้งนี้บริษัทฯ ขอสงวนสิทธิในการเปลี่ยนแปลงข้อกำหนดและเงื่อนไขในกรณียกเลิกหรือแก้ไขแพ็คเกจการเดินทาง ตามความหมาะสม โดยมิต้องแจ้งให้ทราบล่วงหน้า
หมายเหตุ: ในส่วนของสถานการ์ณ COVID19 ที่เกิดชึ้นในปี 2020 ขอให้ติดต่อเจ้าหน้าที่ใน Line @allaboutmaldives เพื่อทราบรายละเอียดของนโยบายการยกเลิก/ การเปลี่ยนแปลง/ การคืนเงินของแต่ละแพ็คเกจห้องพัก
For reservation, please contact 081 701-0091 or 02 538-1374